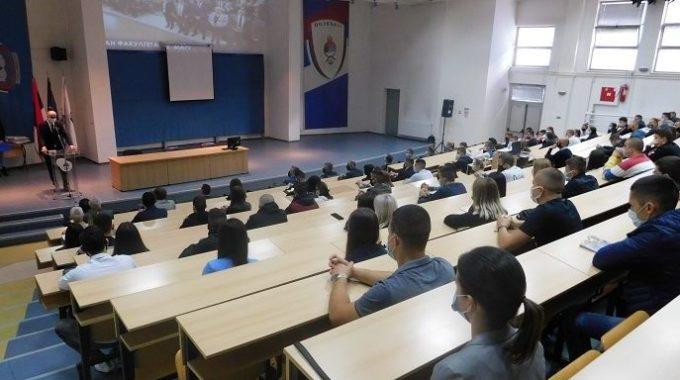 An academic class was held for newly enrolled students in the academic 2020/21
At the ceremony held in the amphitheater of the Faculty, the Minister in the Government of Srpska, Srdjan Rajčević, the rector of the University of Banja Luka, dr Radoslav Gajanin, dean of the Faculty of Security Sciences dr Predrag Ćeranić and the president of the student organization of FBN and the best student of the Faculty Duško Baškalo.
Minister Rajčević emphasized that he chose to attend the academic class at the Faculty of Security Sciences due to the necessity of reflection and the topicality of security challenges in Srpska. "Srpska is in a complex geostrategic position so your role is important," Rajčević emphasized.
The freshmen were then greeted by Rector Radoslav Gajanin, who congratulated them on the beginning of their academic education.
"You are studying security sciences in order to preserve what we have, and that is Republika Srpska, our homeland," Dean Ćeranić pointed out.
Duško Baškalo greeted his younger colleagues, shared his experiences in working and studying at the Faculty and emphasized that only dedicated work can achieve results.
After that, the students were introduced to the academic and administrative staff of the Faculty.
In the continuation, the Dean of the Faculty presented awards for the three best students in each year of study, and Duško Baškalo presented awards to students from the first to the fifth place on the final ranking list for student enrollment.
From October 6, regular classes for freshmen begin.