JOURNAL OF SECURITY AND CRIMINAL SCIENCES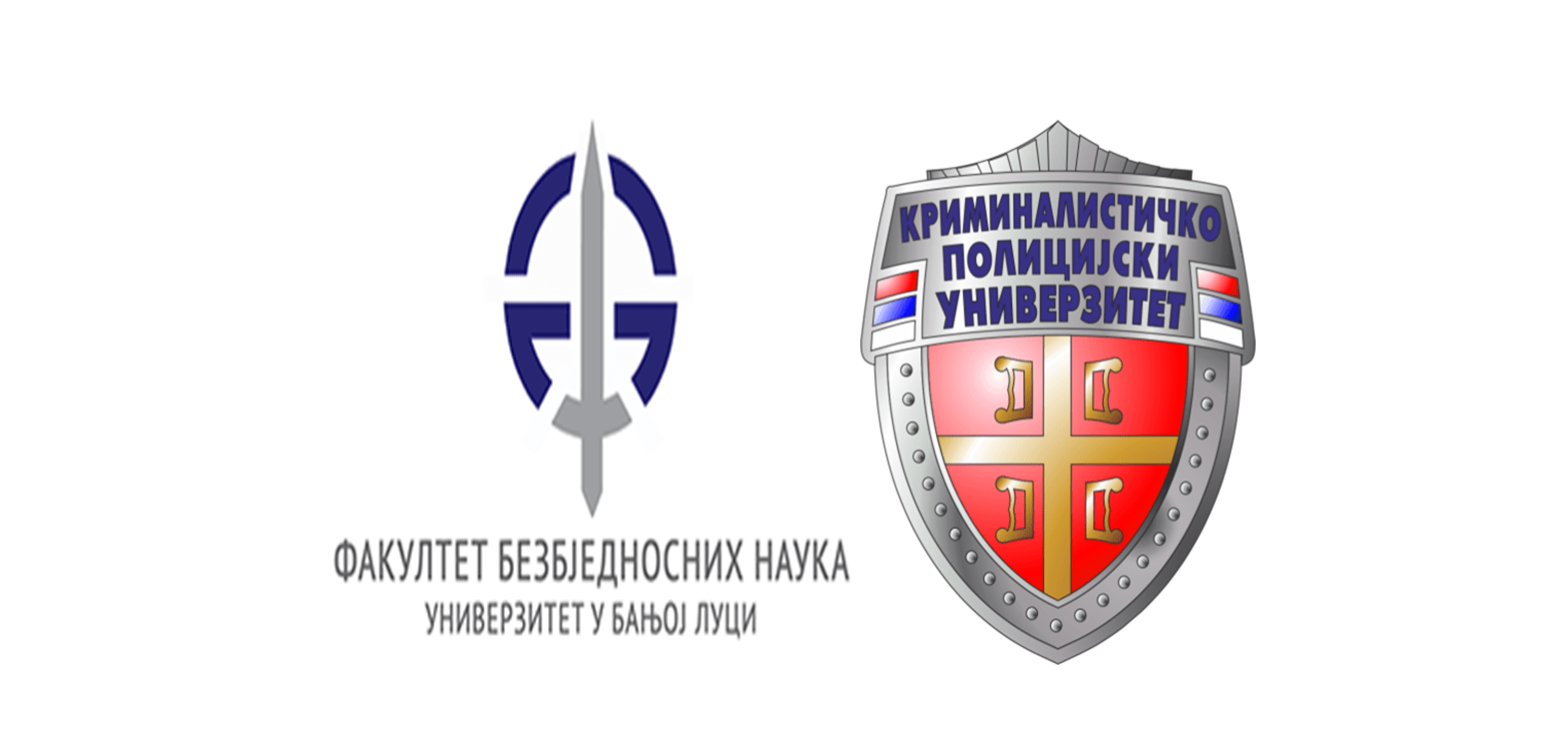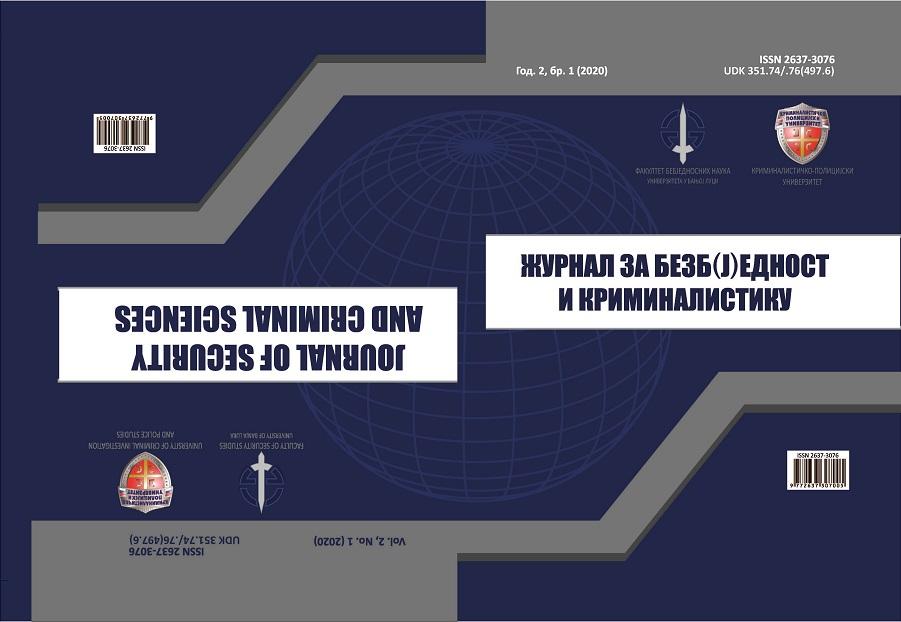 The Journal of Security and Criminal Sciences is a scholarly journal in the field of security and criminal sciences published by the Faculty of Security Studies, University of Banja Luka and University of Criminal Investigation and Police Studies in Belgrade. The Journal of Security and Criminal Sciences publishes innovative scholarly articles that address topics ranging from security studies, criminalistics and forensics, through protection and rescue, the organization of policing and police activities, to special physical education. Additionally, the journal publishes articles in other scientific fields that are closely related to the profile of the journal. The journal publishes original research articles, review articles, short or brief communications, conference reports, book reviews, research project reports, and article critique or response papers that have not previously been published or submitted to another journal for consideration in any form.
The journal is published twice a year and is available in open access mode.
ISSN (Printed edition) 2637-3076
CURRENT ISSUE: Vol 2, No. 1, 2019
ARTICLES
Dragomir Jovičić
SECURITY SECTOR AND/OR COMMUNITY POLICING
Matej Barta
TRAVEL DOCUMENTS AND ID CARDS COUNTERFEITING IN SLOVAK REPUBLIC
Darko Dimovski, Ivan Milić
PROHIBITION ON PRACTICING A PROFESSION, ACTIVITY OR DUTY IN THE CRIMINAL LAW OF REPUBLIC OF SERBIA
Lazar Vulin, Darko Paspalj, Milan Gužvica, Milenko Vojvodić
BASIC MOTOR ABILITIES AS PREDICTORS OF MASTERING AN OBSTACLE COURSE DESIGNED TO TEST MOTOR SKILLS
Book reviews
Siniša Karan
Review of the monograph Public Security
ISSUE: Vol 1, No. 2, 2019
ARTICLES
Milan Lipovac, Nevena Stanković
WENDT'S THEORETICAL CONTRIBUTION TO SECURITY STUDIES THE AGENT STRUCTURE PROBLEM
Milica Sikimić, Velibor Lalić, Predrag Ćeranić
THE PREVENTION OF RADICALIZATION, VIOLENT EXTREMISM, AND TERRORISM THROUGH THE REPUBLIKA SRPSKA EDUCATION SYSTEM
Aleksandar Čudan, Dragan Cvetković
THE IMPORTANCE OF FORENSIC ACCOUNTING IN FORENSIC ECONOMIC AND FINANCIAL EXAMINATION
Bojan Mitrović, Goran Žigić, Goran Vučković
THE EFFECTS OF SPECIAL PHYSICAL EDUCATION ON CHANGES IN THE MAXIMUM ISOMETRIC MUSCLE FORCE OF THE BACK EXTENSOR MUSCLES IN THE STUDENTS AT THE UNIVERSITY OF CRIMINAL INVESTIGATION AND POLICE STUDIES
Darko Paspalj, Milan Gužvica, Lazar Vulin
THE EFFECTS OF SPORT SKILLS COURSE PROGRAM ON THE BASIC MOTOR STATUS IN THE STUDENTS AT THE FACULTY OF SECURITY STUDIES
Book reviews
Aleksandar Pavić
IN THE YARD OF LITTLE RUSSIANS by Predrag Ćeranić Serious analytics dressed in literary attire
ISSUE: Vol 1, No. 1, 2019
ARTICLES
Dragan Мilidragović, Dane Subošić, Nenad Milić
POLICE PROCEDURE FOR HANDLING ORDERS AND REQUESTS ISSUED BY THE COMPETENT AUTHORITIES

Žana Vrućinić, Dragana Vasiljević
SECURITY MEASURES ORIENTED TOWARD THE PERPETRATORS OF VIOLENT CRIMES IN THE REPUBLIKA SRPSKA
Stevo Jacimovski, Jovan Setrajcic, Jelena Lamovec
ON QUANTUM CRYPTOGRAPHY
Velibor Lalić, Predrag Ćeranić, Milica Sikimić
PRIVATE AND/OR CORPORATE SECURITY:  ARE THERE CONCEPTUAL SIMILARITIES AND DIFFERENCES?
Darko Paspalj, Milan Guzvica, Lazar Vulin
THE STRUCTURE OF MOTOR SKILLS AMONG THE STUDENTS AT THE FACULTY OF SECURITY STUDIES
Book reviews
Aleksandar Pavić
TOWARD A MODEL OF RESTORATIVE SOCIAL JUSTICE IN BOSNIA AND HERZEGOVINA by Laurence Armand French
Articles should be submitted in
suitable electronic formats
via the following email address:
casopis@fbn.unibl.org
The Journal Secretariat:
Dragana Vasiljević
Telephone: +387 51 333 603
E-mail:  casopis@fbn.unibl.org
Address: Bulevar vojvode Živojina Mišića 10а
78000 Banja Luka, Republika Srpska