JOURNAL OF SECURITY AND CRIMINAL SCIENCES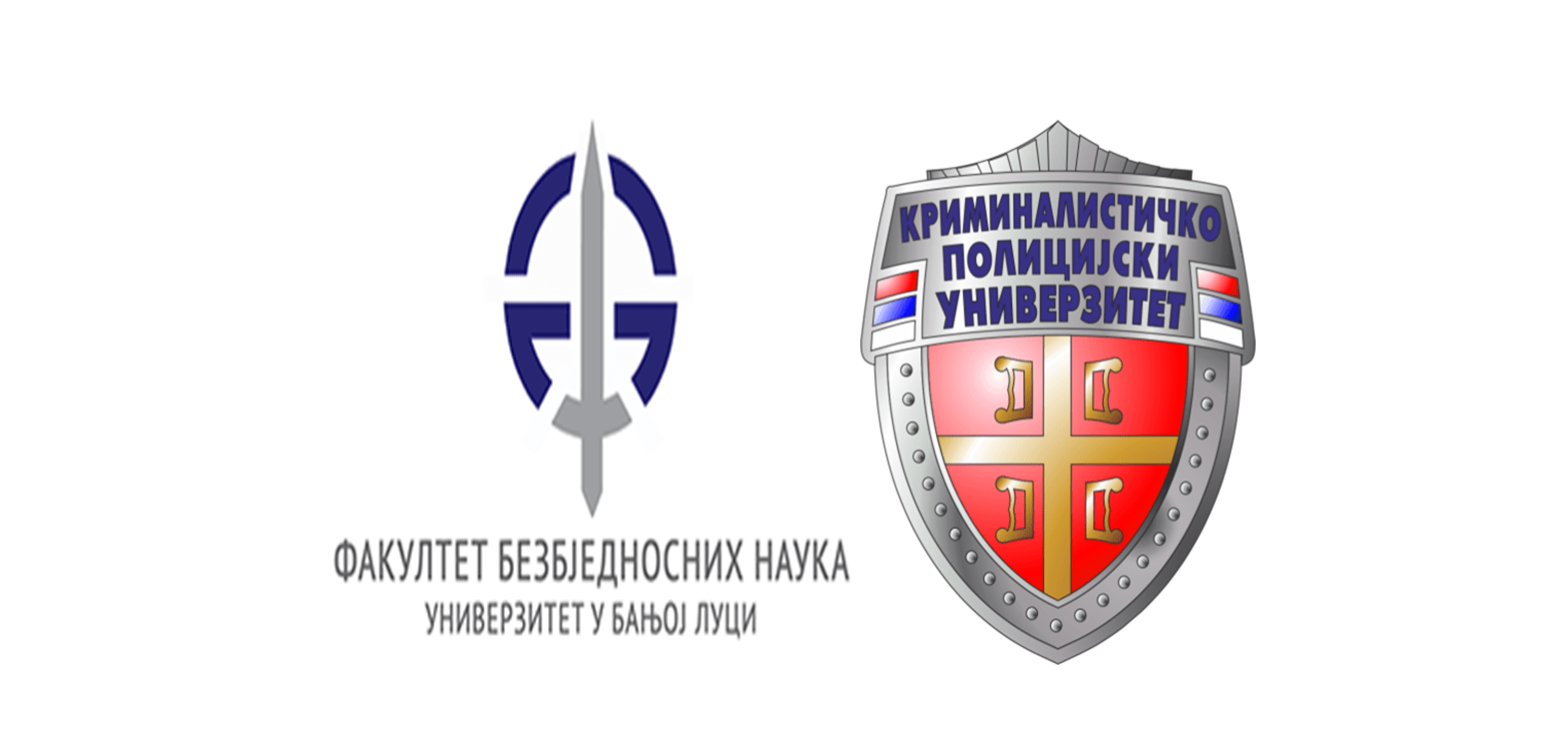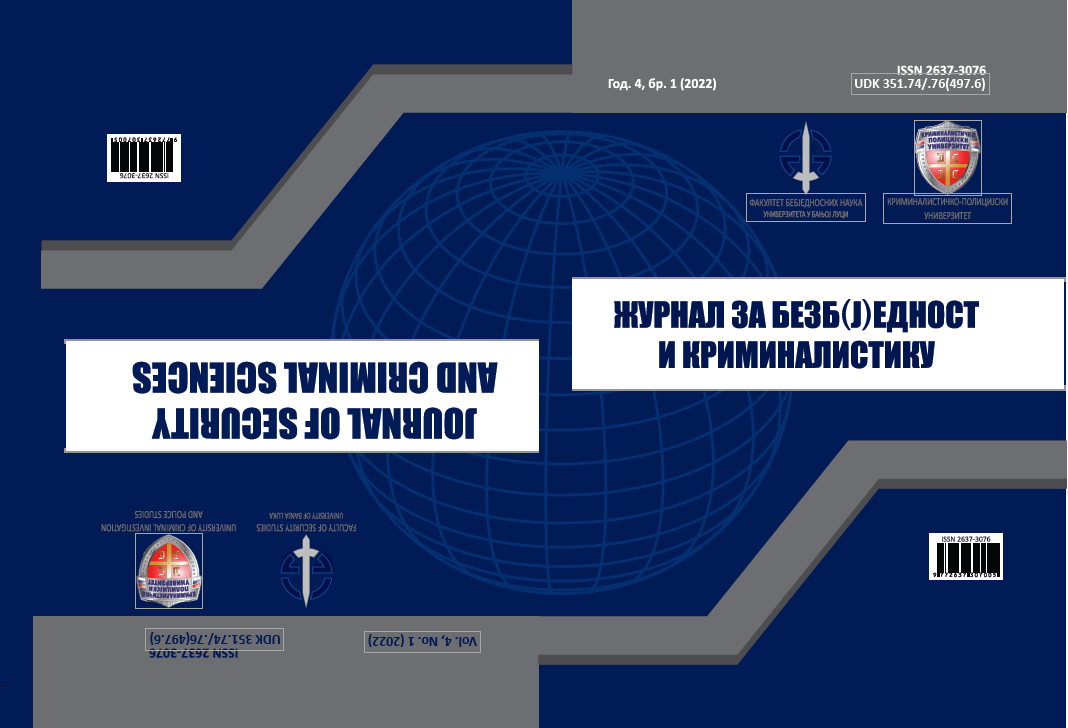 The Journal of Security and Criminal Sciences is a scholarly journal in the field of security and criminal sciences published by the Faculty of Security Studies, University of Banja Luka and University of Criminal Investigation and Police Studies in Belgrade. The Journal of Security and Criminal Sciences publishes innovative scholarly articles that address topics ranging from security studies, criminalistics and forensics, through protection and rescue, the organization of policing and police activities, to special physical education. Additionally, the journal publishes articles in other scientific fields that are closely related to the profile of the journal. The journal publishes original research articles, review articles, short or brief communications, conference reports, book reviews, research project reports, and article critique or response papers that have not previously been published or submitted to another journal for consideration in any form.
The journal is published twice a year and is available in open access mode.
ISSN (Printed edition) 2637-3076
ISSUE: Vol 4, No. 1, 2022
Predrag Ćeranić, Dusko Baškalo
RADICALIZATION AS A PROCESS OF TERRORIST RECRUITMENT
Predrag Popović
GERMANY'S STRATEGIC, LEGAL AND INSTITUTIONAL APPROACH TO FIGHTING TERRORISM
Dane Subošić, Stevo Jaćimovski, Goran Jovanov
THE USE OF CHEMICAL AGENTS BY LAW ENFORCEMENT IN CONTROLLING CIVIL DISORDERS
Bošković Milica
SOCIOECONOMIC ASPECT OF JUVENILE DELINQUENCY IN THE REPUBLIC OF SERBIA
Predrag Popović
Review of the book Juvenile Delinquency by Žana Vrućinić
ISSUE: Vol 3, No. 2, 2021
ARTICLES
Predrag Popović, Davor Stupar
THE RELATIONSHIP BETWEEN TERRORISM AND VIOLENT CRIME, ORGANIZED CRIME, AND CORRUPTION AS A SUBJECT MATTER OF CRIMINALISTICS
Predrag Ćeranić, Duško Baškalo
THE ISSUE OF CIVILIAN INTELLIGENCE SERVICE CONTROL IN BOSNIA AND HERZEGOVINA
Darko Paspalj, Milan Gužvica, Lazar Vulin
THE CONNECTION OF MOTOR SKILLS AND SWIMMING KNOWLEDGE WITH THE RESULT OF SWIMMING THE 100-METER FREESTYLE
Dragiša Jurišić
REGULATIONS AND DEFICIENCIES REGARDING THE TRAINING OF THE PROTECTION AND RESCUE UNITS IN BOSNIA AND HERZEGOVINA
BOOK REVIEWS
Predrag Ćeranić
REVIEW OF THE BOOK CONTROL OVER POLICE PRACTICE BY DRAGOMIR JOVIČIĆ
ISSUE: Vol 3, No. 1, 2021
ARTICLES
Darko Paspalj, Milan Gužvica, Lazar Vulin, Milenko Vojvodić
THE IMPORTANCE OF COORDINATION FOR THE PERFORMANCE OF FALLING TECHNIQUES ENVISAGED IN THE SPECIAL PHYSICAL EDUCATION PROGRAM
Milijana Buha
PRINCIPLES OF CRIMINAL PROSECUTION UNDER THE 2021 CRIMINAL PROCEDURE CODE OF REPUBLIKA SRPSKA
REVIEW ARTICLES
Boris Tučić
BOSNIA AND HERZEGOVINA AS A FACTOR OF THE WESTERN BALKAN SECURITY SUBCOMPLEX
Davor Stupar
CRIMINAL INTELLIGENCE AS A PREREQUISITE FOR QUALITY CRIME FORECASTING
BOOK REVIEWS
Želimir Kešetović and Dane Subošić
The review of the book Security in Emergency Situations (Bezbednost u vanrednim situacijama) by Dragan Mlađan
ISSUE: Vol 2, No. 2, 2020
ARTICLES
Vladimir M. Cvetković, Bogdan Filipović
THE SURVEY OF CITIZEN ATTITUDES TOWARD PREPAREDNESS FOR DISASTERS CAUSED BY WILDFIRES: CASE STUDY: PRIJEPOLJE
Goran Žigić, Raša Dimitrijević, Bojan Mitrović
DIFFERENCES IN BASIC MOTOR SKILLS AMONG STUDENTS AT THE UNIVERSITY OF CRIMINAL INVESTIGATION AND POLICE STUDIES REGARDING SPECIAL PHYSICAL EDUCATION 1
Boris Tučic
KEY INSTITUTIONAL ACTORS OF EUROPEAN SECURITY – CURRENT STATE AND CHALLENGES
Predrag Popović
SERBIA'S STRATEGIC, LEGAL AND INSTITUTIONAL APPROACH IN THE FIGHT AGAINST TERRORISM
BOOK REVIEWS
Srđan Perišić
Review of the book entitled Basic integration and cooperation policies in the area of internal affairs and justice in the European Union: Legal and institutional framework of the area of freedom, security and justice by Boris Tučić A SERIOUS APPROACH TO UNDERSTANDING THE EUROPEAN UNION
ISSUE: Vol 2, No. 1, 2020
ARTICLES
Dragomir Jovičić
SECURITY SECTOR AND/OR COMMUNITY POLICING
Matej Barta
TRAVEL DOCUMENTS AND ID CARDS COUNTERFEITING IN SLOVAK REPUBLIC
Darko Dimovski, Ivan Milić
PROHIBITION ON PRACTICING A PROFESSION, ACTIVITY OR DUTY IN THE CRIMINAL LAW OF REPUBLIC OF SERBIA
Lazar Vulin, Darko Paspalj, Milan Gužvica, Milenko Vojvodić
BASIC MOTOR ABILITIES AS PREDICTORS OF MASTERING AN OBSTACLE COURSE DESIGNED TO TEST MOTOR SKILLS
Book reviews
Siniša Karan
Review of the monograph Public Security
ISSUE: Vol 1, No. 2, 2019
ARTICLES
Milan Lipovac, Nevena Stanković
WENDT'S THEORETICAL CONTRIBUTION TO SECURITY STUDIES THE AGENT STRUCTURE PROBLEM
Milica Sikimić, Velibor Lalić, Predrag Ćeranić
THE PREVENTION OF RADICALIZATION, VIOLENT EXTREMISM, AND TERRORISM THROUGH THE REPUBLIKA SRPSKA EDUCATION SYSTEM
Aleksandar Čudan, Dragan Cvetković
THE IMPORTANCE OF FORENSIC ACCOUNTING IN FORENSIC ECONOMIC AND FINANCIAL EXAMINATION
Bojan Mitrović, Goran Žigić, Goran Vučković
THE EFFECTS OF SPECIAL PHYSICAL EDUCATION ON CHANGES IN THE MAXIMUM ISOMETRIC MUSCLE FORCE OF THE BACK EXTENSOR MUSCLES IN THE STUDENTS AT THE UNIVERSITY OF CRIMINAL INVESTIGATION AND POLICE STUDIES
Darko Paspalj, Milan Gužvica, Lazar Vulin
THE EFFECTS OF SPORT SKILLS COURSE PROGRAM ON THE BASIC MOTOR STATUS IN THE STUDENTS AT THE FACULTY OF SECURITY STUDIES
Book reviews
Aleksandar Pavić
IN THE YARD OF LITTLE RUSSIANS by Predrag Ćeranić Serious analytics dressed in literary attire
ISSUE: Vol 1, No. 1, 2019
ARTICLES
Dragan Мilidragović, Dane Subošić, Nenad Milić
POLICE PROCEDURE FOR HANDLING ORDERS AND REQUESTS ISSUED BY THE COMPETENT AUTHORITIES

Žana Vrućinić, Dragana Vasiljević
SECURITY MEASURES ORIENTED TOWARD THE PERPETRATORS OF VIOLENT CRIMES IN THE REPUBLIKA SRPSKA
Stevo Jacimovski, Jovan Setrajcic, Jelena Lamovec
ON QUANTUM CRYPTOGRAPHY
Velibor Lalić, Predrag Ćeranić, Milica Sikimić
PRIVATE AND/OR CORPORATE SECURITY:  ARE THERE CONCEPTUAL SIMILARITIES AND DIFFERENCES?
Darko Paspalj, Milan Guzvica, Lazar Vulin
THE STRUCTURE OF MOTOR SKILLS AMONG THE STUDENTS AT THE FACULTY OF SECURITY STUDIES
Book reviews
Aleksandar Pavić
TOWARD A MODEL OF RESTORATIVE SOCIAL JUSTICE IN BOSNIA AND HERZEGOVINA by Laurence Armand French
Articles should be submitted in
suitable electronic formats
via the following email address:
casopis@fbn.unibl.org
The Journal Secretariat:
Predrag Popović
Telephone: +387 51 333 675
E-mail:  casopis@fbn.unibl.org
Address: Bulevar vojvode Živojina Mišića 10а
78000 Banja Luka, Republika Srpska