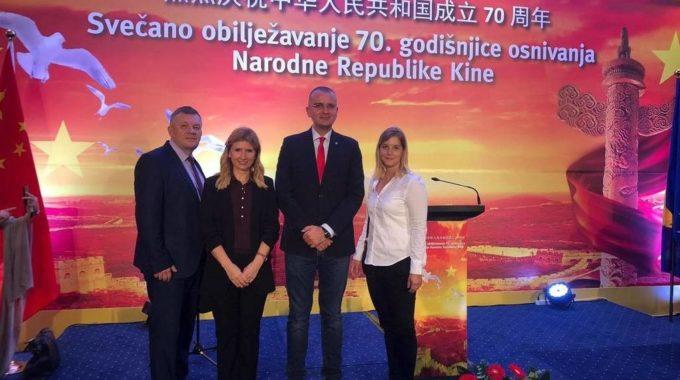 Faculty representatives at the reception on the 70th anniversary of the People's Republic of China
Delegation of the University of Banja Luka, led by the Vice-Rector for Scientific Research and Development prof. Goran Latinović, PhD, attended a reception on September 30, 2019 in Sarajevo organized on the occasion of the 70th anniversary of the proclamation of the People's Republic of China.
The reception organized by the Ambassador of the People's Republic of China in Bosnia and Herzegovina was also attended by the Dean of the Faculty of Security Sciences  Predrag Ćeranić, Ph.D. and Velibor Lalić, PhD.
In a short talk, Vice-Rector Latinović and Ambassador Ping expressed mutual belief that the cooperation between the University of Banja Luka and the People's Republic of China would remain high and would be improved in all fields.
Chinese Ambassador to BiH Ji Ping said during the reception that the good relations between the two countries were best evidenced by the fact that in the first half of this year, more than 45,000 Chinese tourists visited BiH, which is 99 percent more than in the same period last year, which made China ranked third in terms of foreign tourist arrivals in BiH. According to him, the cultural exchange of BiH and China has achieved satisfactory results, Chinese language learning is increasingly popular, more cultural delegations have visited BiH, so that citizens have the opportunity to enjoy Chinese music, songs, dance, painting and films.
This reception was attended by numerous political officials, representatives of the diplomatic corps, as well as officials from economic, cultural and political life.