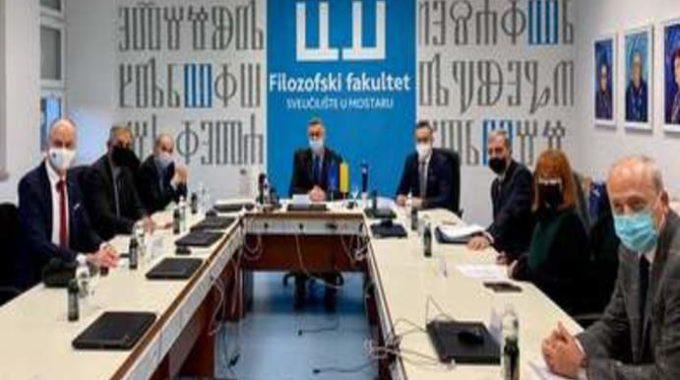 Agreement on Cooperation Signed with Eight Public Universities
At the session of the Rector's Conference of Bosnia and Herzegovina, held on 10 December 2020 in Mostar, an agreement on mutual understanding and cooperation was signed.
Rectors of eight public universities in Bosnia and Herzegovina signed the Agreement which provides for cooperation in educational and scientific fields that are represented in all public higher education institutions.
The agreement regulates the mutual visits, study trips, and consultations between professors and scientists for the purpose of mutual exchange of experiences in the scientific-teaching process. This Agreement envisages cooperation at scientific meetings conferences, but also other scientific and professional events. The parties to the agreement also agree to work together in promoting academic values.
The plan is to work together to implement higher education reforms, in order to meet the preconditions for active and full participation in the single European Higher Education Area and the European Research Area. The agreement also envisages the mobility of professors, teaching assistants, researchers within all study cycles, as well as the mutual exchange of scientific information and publications.
This document also defines and determines the common grounds and unified action towards institutions of importance for higher education both in BH and in international trends.
During this session of the Rectors' Conference, an appeal was filed with the Council of Ministers and the Ministry of Civil Affairs of BH to speed up the procedures for the election and appointment of the new management and the Management Board of the Agency for Development of Higher Education and Quality Assurance of Bosnia and Herzegovina.
Rectors of public higher education institutions also discussed other important and current issues related to higher education.