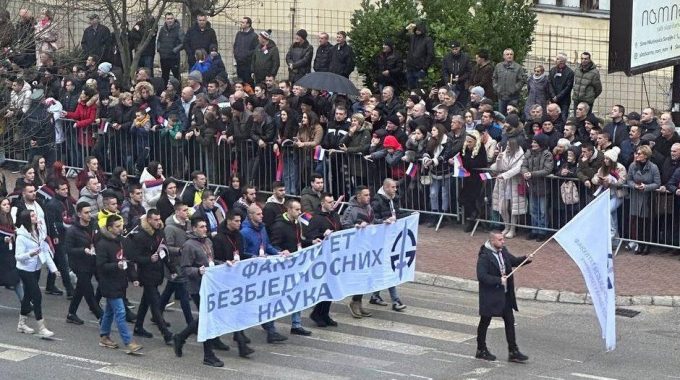 Srpska celebrated its 31st birthday: Faculty students part of the festive parade
The ceremonial parade on the occasion of the 31st birthday of Republika Srpska was held today in East Sarajevo.
Previously, in the Church of Christ the Savior in Banja Luka, the Holy Bishop's Liturgy, dedicated to the Holy First Martyr Stefan, was served, led by Bishop Jefrem from Banja Luka.
At 12:00 p.m., wreaths were laid at the Serb military memorial cemetery "Mali Zejtinlik" in Sokolac.
The ceremonial parade started at 2:00 p.m. in East Novi Sarajevo.
Fifty students of the Faculty of Security Science participated in the parade carrying the flag and banner of the Faculty. This is the sixth Ceremonial parade in a row and the fifth in which the echelon of the Faculty of Security Sciences participates.
At the end of the parade, the 527-meter-long Serb flag was unfurled.
On the Republic Square of Serbia in East Novi Sarajevo at 7:00 p.m., there was a fireworks display with a concert by the Police Orchestra of the MUP of the Republic of Srpska.
The play "I want to live" by the National Drama Theater of Russia, Alexandrinsky Theater from Saint Petersburg, will be performed at the National Theater of the Republic of Srpska from 8:00 p.m.
The celebration of Serbian Day was also celebrated in other local communities.
The Republic of Srpska was created on January 9, 1992 by the decision of the Assembly of the Serb People in Bosnia and Herzegovina. She achieved international recognition with the General Framework Agreement for Peace in Bosnia and Herzegovina signed on November 21, 1995.
We would like to thank the students of the Faculty of Security Science who took part in the celebration of the Day of Srpska.
CONGRATULATIONS TO THE CITIZENS OF SRPSKA ON THE 31ST BIRTHDAY OF THE REPUBLIC OF SRPSKA!