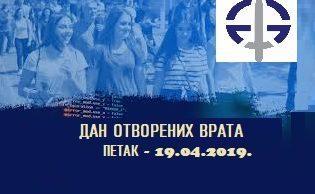 The Open Doors Day – Friday 19/04/2019
The Open Doors Day will be held on Friday, April 19, 2019, starting at 12.00 at the University Sports Hall.
Candidates interested in the Faculty of Security Studies will have the opportunity to visit the faculty premises from 1.30 pm to 3.30 pm.
A visit is planned for the Forensic Laboratory, the Cabinet of the Armed Forces, the permanent setting of the weapons used in the defensive-homeland war, and the display of equipment used in the training of MUP workers (Red Men, Radar …).
After that, students of the Faculty of Security Studies will demonstrate an exercise in which candidates will demonstrate the security of the site and the work of the reconnaissance team and demonstrate the deprivation of liberty of the suspect.
Candidates will be able to obtain all information related to the entrance examination and student enrollment.
There will be snacks and refreshments.
See you at the Faculty of Security Studies.
View the activity overview HERE