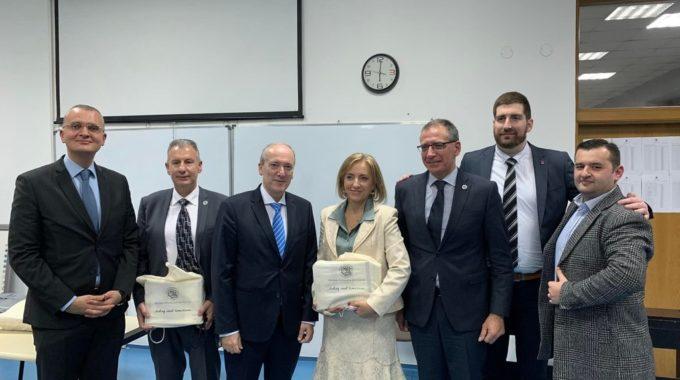 Hellenic Research Centre Opened
On 9 December 2021, the Hellenic Research Centre was opened at the Faculty of Philology of the University of Banja Luka.
Greek Ambassador to BH Dimitrios Papandreou said that the Embassy of Greece in Sarajevo will provide all kinds of support in the work of the Centre, as well as the Ministry of Foreign Affairs and the Government of Greece, while the Hellenic Foundation for Culture will play one of the most important roles. The Centre was opened in the organization of the Embassy of Greece to BH.
,,The opening of the Hellenic Research Centre at the Faculty of Philology will give our academic community a new dynamic in terms of studying both the Greek language and all those civilization achievements by which it is recognizable.", Dean of the Faculty of Philology Prof. Biljana Babić, PhD, said.
As stated by prof. Babić, the opening of the Centre will enable stronger connections with similar institutions in our country, but also in Greece.
Vice-Rector for Scientific Research and University Development Prof. Goran Latinović, PhD, said that the opening of the Hellenic Culture Centre represents a major step forward in the development of the University of Banja Luka, especially the humanities – philosophical and philological sciences.
,,I am convinced that this Centre will bring the improvement of our relations with Greek universities and institutes, further projects, and the exchange of teaching staff and students between the University of Banja Luka and the universities of Greece.", Latinović pointed out and stated that at the beginning of 2022, Greek language courses will be organized at the University again.
In his speech at this event, Latinović, who is an associate professor at the History Study Programme at the Faculty of Philosophy of the University of Banja Luka, gave an overview of the history of Serbian-Greek relations.
The opening of the Centre was also attended by the Minister of Trade and Tourism of the Republic of Srpska Suzana Gašić, the President of the Hellenic Foundation for Culture Nikos Koukis, representatives of the academic community and students.